Agentless Network Access Control With Secure DHCP Server
IPScan Brochure

Probe X Brochure

Secure IP Address Management Layer 2 Network Access Control Solution
IPScan is an IP/MAC resource management and network security solution that enables IT managers to automate the IP/MAC resource management process.
IPScan controls network access of any device that uses IP addresses.
Utilizing our powerful blocking technology, IPScan ensures that unknown and unauthorized IP/MAC addresses are prevented from accessing the network.
By deploying IPScan into your network, you can centrally manage distributed IP/MAC address resources more safely, effectively and efficiently.
IPScan provides IP-enabled organizations with valuable security, availability, compliance, operational efficiency benefits and increased ROI.
IPScan is deployed by hundreds of large enterprises, service providers, government, military agencies and educational institutions.
IPScan consists of four components: (1) administrative console software, (2) centralized server, (3) database, and (4) distributed hardware; probes.
IPScan is the only solution that provides complete control over all of your IP/MAC access points in your network.
IPScan automatically detects and documents every Ethernet and IP address that attempts access the network, enforcing centrally defined policies in real-time with the ability to block unauthorized devices from communicating through the network.
IPScan helps secure networks against internal breaches, prevents inadvertent network disruptions from address conflicts, mitigates risks of non-compliance with regulatory requirements regarding security, corporate financial and operation information as well as increasing your IT department's operational efficiency when delivering information services.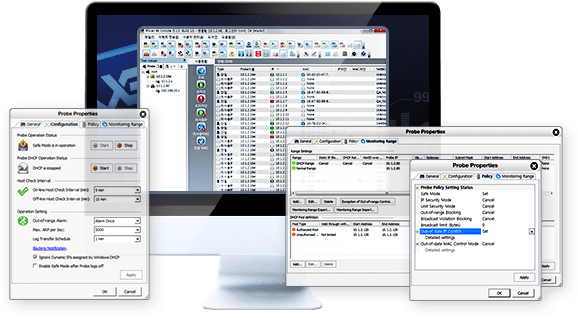 DHCP Server

Real-time IP/MAC asset management
Static IP device control
IP conflict protection
IP change protection
Unused IP blocking
Time-based IP usage control

IP Address Management

Agentless & out of band
Non 802.1x based
Real-time layer 2 IP/MAC control
Unauthorized device blocking
Time-based usage control
User identification management by IP/MAC Switch port control & management

Agentless NAC

Authorized pool management for internal users
Unauthorized pool management for external & temporary users
Fixed DHCP IP allocation Access time control for temporary users. Auto-blocking of Static IP in the DHCP IP range